Why not join us on April 17th April at 18:00 for a virtual drink and tour of our latest exhbition. featuring Michael Alford, Patrick Gibbs and Dominique Salm.
Michael Alford
Michael Alford was born in Cookham, England and his earliest art training came from his father. As a young man he travelled extensively in South America and the Middle East, keeping detailed sketchbooks to record his experiences. This series of early drawings reveals a talent for the figurative depiction of cities, human figures, and natural scenes, the subjects that form the core of his work to this day.
Returning to the United Kingdom, Michael pursued studies at the Slade School and the Chelsea School of Art before launching a successful painting career. Known for his ability to blend classical technique with a sharp, modern sensibility, his work can be found in public and private collections around the world. He exhibits regularly in the United Kingdom as well as in the United States and continental Europe.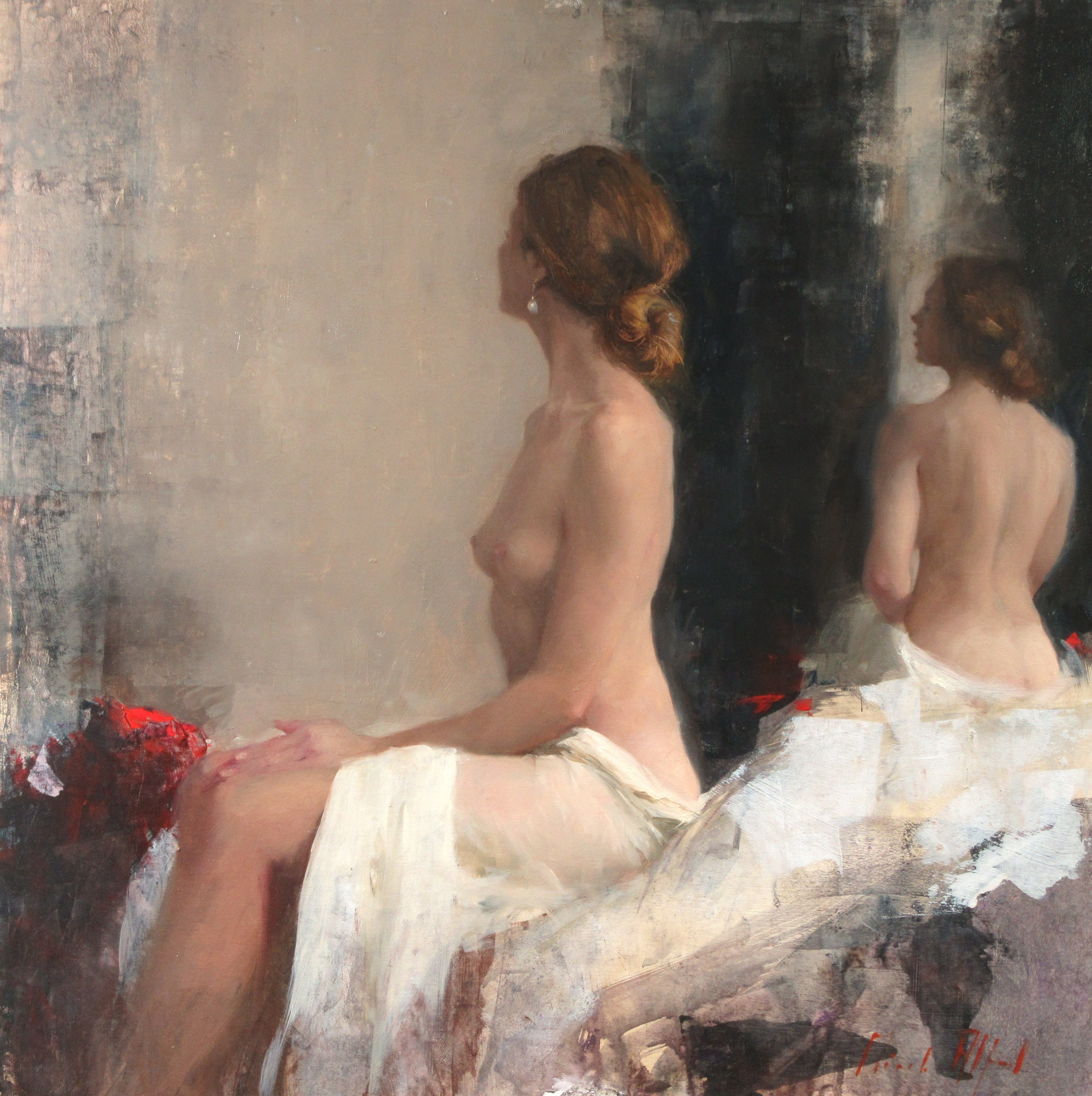 Michael has been awarded several prizes including the Green and Stone Oil Painting Prize, the Agnes Reeve Memorial Prize for best painting of London, and the Prima Luce Mural prize. His work has been chosen many times for exhibition by the Royal Society of Oil Painters.
Michael's body of work is varied, reflecting his interests in many aspects of life as well as his skill in a variety of media. He is best known for masterful cityscapes of contemporary urban centres such as London, New York and Barcelona. His paintings and drawings of people — men and women, clothed and nude — are highly sought-after for their combination of fine draughtsmanship, acute observation and sense of drama.
In 2011 Michael served as official War Artist to the 1st Battalion Grenadier Guards, accompanying them on their tour of Afghanistan. In 2013 he was appointed as the Official War Artist to1 Mechanized Brigade, again in Helmand.
Michael Alford lives and works in London.
PATRICK GIBBS
Patrick Gibbs was born in London in 1959. He says that his art career started promisingly when he won a pencil-case in a primary school painting competition. He later studied at The Ruskin School of Drawing and Magdalen College, Oxford where, despite the best efforts of the tutors to turn him into an Abstract Expressionist painter, he painted mostly portraits and figures.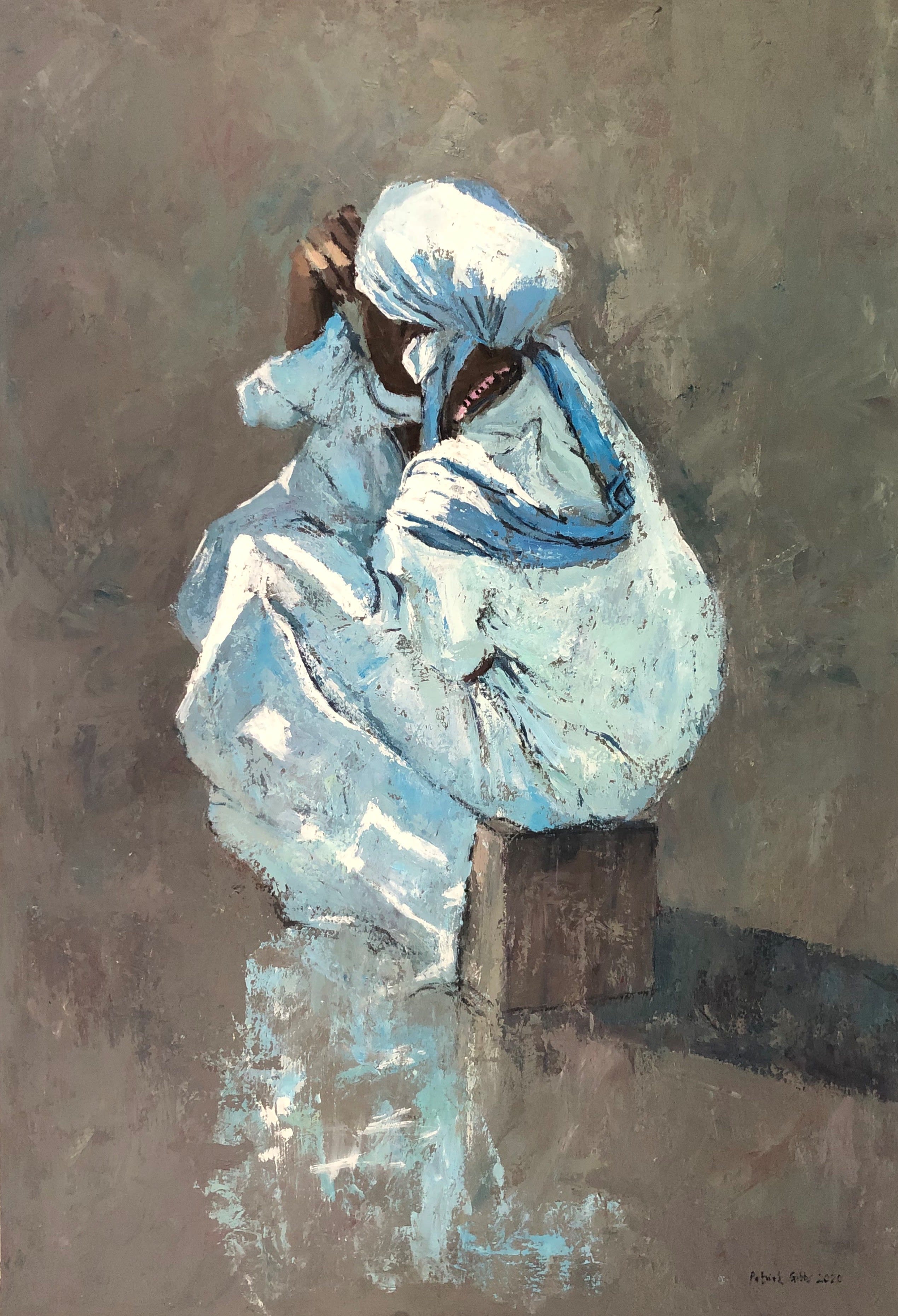 After university Patrick lived in Germany for a year, working on building sites and teaching English, before deciding that he wanted to be a painter. He bought an old van, filled it with art materials and spent the next few years driving around Europe teaching himself to paint landscapes.
The highlight of Patrick's travels was a year spent in Tarquinia, a beautiful medieval village north of Rome. Here he devoted himself to painting almost everything he saw financing his time by drawing street portraits.
Back in London, after a brief spell of teaching Art in schools, Patrick decided to paint full time. Since then he has become known for his carefully observed and emotive paintings. Inspiration for his paintings comes from his extensive travels around the world.
He excels at painting everyday scenes in exotic places such as Cuba, Madagascar, Kerala or Zanzibar, but he is also an accomplished painter of portraits and landscapes. He paints whatever inspires him and the result is a collection of artwork of outstanding quality and variety.
Patrick has a large following of loyal art collectors always vying for his work and he has exhibited in many of England's leading art galleries as well as many galleries in America.
DOMINIQUE SALM
Dominique Salm was born in Jamaica in 1972, where she spent her early childhood before relocating to Hampshire. Having always been passionate about art and wildlife, she completed an illustration degree and then went on to combine her love of both to build a reputation as an internationally successful wildlife artist.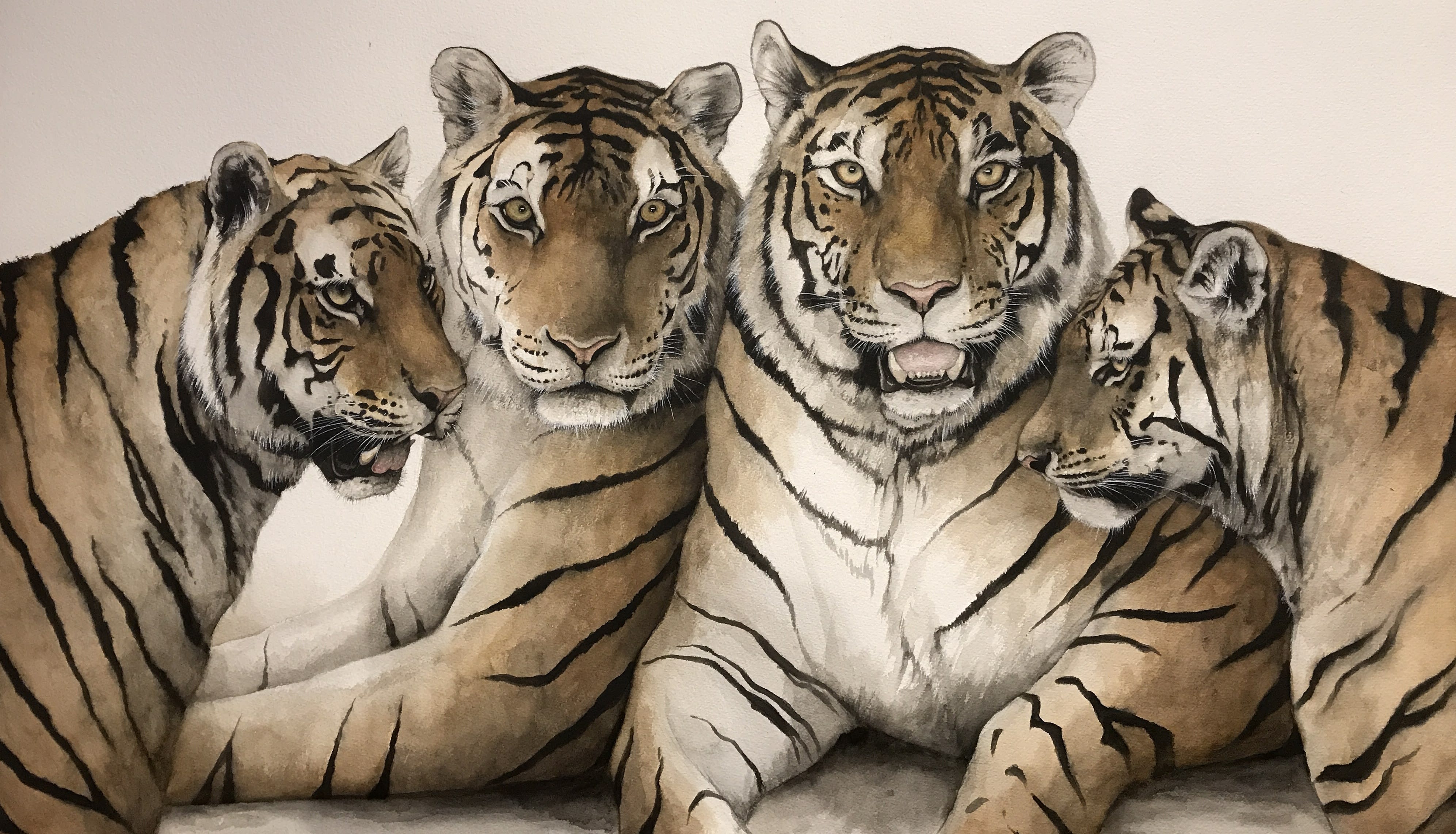 Her remarkably naturalistic portraits of animal subjects are depicted on a clean white background, which not only creates a dramatic graphic image, but conveys her modern aesthetic. Each image has an almost snap-shot quality, showing her unique ability of capturing the personality of each animal and imparting humour, character and whimsy to many of her pieces. "I have always seen the human side in animals - the way they make you laugh or sympathise with them with an action or an expression. I paint mainly from my own photos but can sometimes spend hours watching the subject as it's all about capturing that single moment."
Dominique frequently travels to Kenya where she spends hours studying her subjects. On a recent trip, having noticed how the elephants vary in shades of red from rolling and spraying themselves in the rich soil out there, she came up with the idea of using the actual earth as a pigment in her paintings to convey this.
Dominique has quickly become a highly acclaimed wildlife artist and consequently her paintings are now highly sought after by private collectors and art dealers worldwide. She frequently exhibits in both London and New York, has been shortlisted for the David Shepherd Wildlife Artist of the Year in several years in a row and is winner of the BBC Wildlife Artist of the Year 2009, World Mammals category.
Whilst we're unable to open the Gallery at this time, we will be launching a virtual exhbition. Stayed tuned for more details.