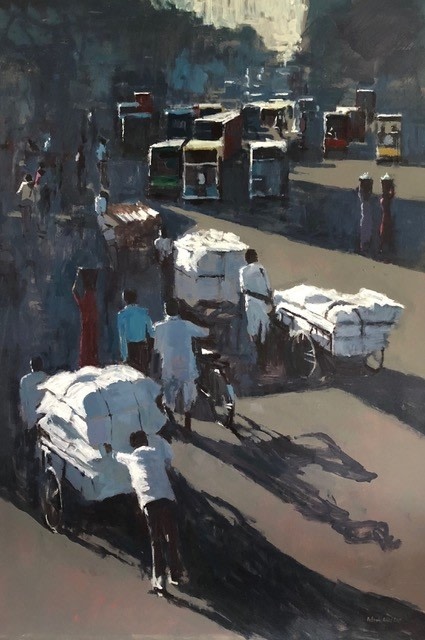 Patrick is known for his carefully observed and emotive paintings. Inspiration for his paintings comes from his extensive travels around the world. He excels at painting everyday scenes in exotic places such as Cuba, Madagascar, Kerala or Zanzibar, but he is also an accomplished painter of portraits and landscapes. He paints whatever inspires him and the result is a collection of artwork of outstanding quality and variety.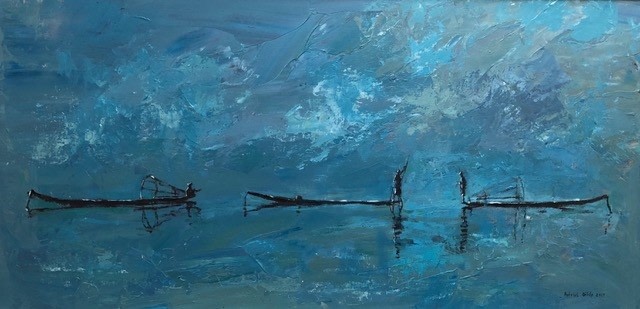 Paul's work is also inspired by his travels, such as his recent trip to India, with his wonderful expressive and energetic style which bursts with colour. He dramatically interprets his landscapes using bold palatte knife techniques, brush strokes and mixed media which produce hiscolourful textured landscapes.
Paul also paints English landscapes and the ever changing seasons, water, weather and light.
The Private View for this exhibition is on Friday 7th September 2018 between 6-8pm and promises to be a visual treat.
In August with Weddings taking place up and down the country it seems an appropriate time to mention to those of you who weren't aware that the Wykeham Gallery offers a Wedding List service.

All that you need to do is register your wedding with the gallery and then tell your family and friends who can then make their donation either in person or over the phone. We will close the fund on your instruction when you can enjoy finding the perfect gift from our extensive collection of ceramics, glass, bronzes or paintings.

We look forward to welcoming you to the gallery and assisting in whatever way we can to help you choose your piece, making it an enjoyable and memorable experience, be it your first piece of art or one of many to add to your collection.

We are delighted to announce that our summer exhibition at the gallery is underway with a colourful display of a selection of artist's work in many different styles, mediums and sizes. On the opening night we collaborated with Danebury Vineyards, who provided us with their delicious white wine, Madeleine Angevine, which was well received by those who came, inspite of the amazing tennis!

In addition we are proud to have two works of art on display which have been chosen from two local schools. David Mossman Smith from Test Valley School did a pen and ink drawing of an avenue of trees called "Contrast". David has also been lucky enough to sell his work to a client of the gallery who lives locally.

Farleigh School's pupil Samuel Acker produced an amazing Eagle sculpture, having been inspired by one of our artist's, Karl Martens, who paints wonderful watercolour pictures of birds. This large piece has been greatly admired for his original approach to the composition.

Gerald Dodson, the gallery owner, feels strongly about the importance of encouraging young artists in the community so is delighted to announce the Wykeham's support in this respect. Every year a piece will be chosen from both schools and then exhibited in the gallery windows for the start of the Summer Exhibition. Gerald feels that by giving these young students the opportunity to show their work alongside already established artists it will hopefully give them additional confidence and aspiration in the pursuit of their art.

We have a new artist who has joined the Wykeham, Maggie Cochran, depicting wonderful seascapes of Cornwall perfectly capturing the muted light which is a feature of this part of the country and the unusual hues of this coastline.

Another Cornish painter Jethro Jackson, who has been with the gallery for some time now, has some new styled work that concerntrates on the ocean and time with an almost tidal creativity of this wild coast. Jethro's work is wonderfully textured with the scraping, scratching and dripping of the colours all being part of the story.

A gallery favourite Mary Pym is exhibiting her instantly recognisable colourful linear landscapes.

Michael Bennallack Hart has some wonderful landscapes of Greece which with their accurate, almost photographic quality makes you feel as if you are actually there witnessing the scene first hand.

Paul Treasure another gallery favourite has his vibrant textured paintings on show with a new trend of slightly more muted colours, alongside his wonderfully lit and brightly coloured recognisable works.

On the subject of colour and summer fun we have Ian Weatherhead's colourful depictions of the English countryside with his charming style of twisted angles, giving the scenes a unique energy.

Alice Boggis-Rolfe is a new emerging talent and manages to capture the landscape scenes with her most extraordinary light giving her work an honesty that comes from her love of painting en plein air.

Another artist who captures the wonderfully moody British skies with amazing accuracy is Harry Brioch whose love of big cloudy skies and green rolling landscapes are also adorning the walls.

Our final two artists exhibiting in the show have very different styles with Julie Collins's mixed media, watercolour and acrylic on paper paintings with her unusual earthy shades giving them an almost ethereal quality, mixed with a delicacy.

Finally Peter Graham, who has been the artist in residence this summer in Saint Tropez, provides us with a real taste of summer with his bright and dazzling colours which make his work impossible to walk past and so uplifting.

We do hope that you are able to come down to the gallery and see the show for yourselves as well as taking a wander in the Sculpture Garden which in spite of the soaring temperatures is looking magnificent.

Welcome to the Wykeham Gallery blog. Wykeham Gallery is a leading contemporary art gallery in Hampshire in the beautiful village of Stockbridge. This blog includes interesting and informative inofrmation about the gallery and also on the arists which include the likes of Karl Martens and Gareth Parry.

AFRICAN INFLUENCE

The latest exhibition at the Wykeham Gallery has an African theme and consists of three women artists, all of whom share a strong connection with the continent.

Dominique Salm is an internationally successful wildlife artist and manages to capture the personality of the animals she paints, which give them their distinctive humour and character. Dominique spends hours studying her subjects on her frequent visits to Kenya and uses the red soil as a pigment in some of her paintings which give them a real authenticity.

Another of our female artists, Frederike Stokhuyzen, lives in Cape Town and works from her Studio at home. Her technique is very different as she only uses palette knives, except for her signature, giving her work a dramatic and unique quality. Frederike studied at Rhodes University, where she obtained her BA Fine Arts degree, as well as at the Central School of Art in London. Frederike is interested in the positive and negative shapes found in a landscape, rockspace, treescape and wildlife in the South African bushveld.

The third woman to feature in this wonderful exhibition is Sophie Walbeoffe whose watercolours and oils have a magical quality and are mainly of Lamu, a wonderful Indian Ocean island, where Sophie returns every year. Sophie has been so taken with Lamu that she has made a book "An Artist's Impression of Lamu" and another book called "Painting with both hands". Sophie loves to paint en plein air and relishes the challenge of painting in the crowded narrow streets, sun baked rooftops and rocking boats.

So please have a look at this wonderful collection on our exhibition page and if you are passing do pop in to see the spectacular work of these three artists. Africa is the common theme and each artist displays a majestic depiction of light, colour and expression.

We are delighted to announce another Solo Exhibition by the artist Karl Martens depicting his magnificent strong watercolour painting of birds. This show opens at the gallery on Friday 11th May 2018, when Karl will be with us for the Private View between 6-8pm.

Karl has been with the Wykeham for many years now and has a huge following for his instantly recognisable works. He is a follower of Zen Buddhism, as well as Japanese and Chinese Calligraphy and Zen art. He believes that by letting go of control he is then able to connect with his intuition thereby achieving his highest potential. Karl uses this technique to achieve this "no mind" state where the intellect is disconnected and he can then feel his way in this "void of thought". Having always been fascinated by birds and since engaging in this method of painting, an entirely new way of working emerged the more he dared to let go.

The whole process is very quick, beginning with the holistic brush stroke, which is the first stroke and determines the entire body of the bird before thoughts begin to re-enter Karl's mind which then disturbs his intuition. The face is then added in greater detail later which is when the bird's own character emerges.

This show is a stunning collection of Karl's work, celebrating both Western and Eastern cultures, and should not be missed.

About the aurthor

Gerald Dodson is the proprietor of the Wykeham Gallery, a leading contemporary art gallery in Hampshire in the beautiful village of Stockbridge. Located midway between Winchester and Salisbury his quaint gallery exhibits paintings of all media, an extensive collection of bronze sculpture as well as ceramics and glass.

The latest cause for celebration at the Wykeham is the arrival of a new artist, Pip McGarry, the world reknowned wildlife artist.

In 2004 Pip had a well known television series 'A Brush with the Wild' with Anneka Rice. Celebrities were taught to paint wildlife by Pip and the series was filmed on location in Kenya and at Marwell Zoological Park in Hampshire, where Pip has been the artist in Residence for over 19 years.

Pip is recognised as a world leader in painting wildlife and has an international reputation for his oils of big cats and African game. He is passionate about his subject and has raised many thousands of pounds for a variety of wildlife conservation charities.

As well as having successful solo exhibitions in the UK Pip has also organised in excess of thirty safaris in Northern Botswana, North and South Tanzania and Kenya. He was also a judge for the BBC Wildlife Artist of the Year, where the prize was to travel with him to Botswana on safari.

We are delighted to welcome Pip to the Wykeham and look forward to exhibiting his incredible wildlife paintings.

About the aurthor

Gerald Dodson is the proprietor of the Wykeham Gallery, a leading contemporary art gallery in Hampshire in the beautiful village of Stockbridge. Located midway between Winchester and Salisbury his quaint gallery exhibits paintings of all media, an extensive collection of bronze sculpture as well as ceramics and glass.

Now the snow has melted and the clocks have sprung forward brighter evenings are with us as is the arrival of Spring. The Wykeham Gallery have just launched a wonderful three person show, which is bursting with colour and a diverse combination of mediums, including oils, plaster and mixed media.

Soraya French, is not only a local artist but is also the President of The Society of Women Artists. Soraya loves to play with luminous and vibrant colour, whilst creating a surface texture for her depictions of flowers, landscapes and ethnic figures. By combining recognisable elements with the abstract Soraya connects with the viewer to make the experience a joyful and colourful event.

White Lillies on Blue

Peter Kettle, is a young Welsh artist and an elected Fellow of the Royal Society of Arts (FRSA), as well as the Royal Cambrian Academy (RCA) who is passionate about his Welsh homeland. Peter loves to celebrate these Welsh landscapes, with a variety of media that he uses in his work which include watercolour, oil, acrylic, inks and plaster. In the mid 1800's there was an immigration of the first settlers from Wales to Puerto Madryn in Patagonia, and in 2017 Peter retraced their footsteps. To record this event Peter produced some wonderful paintings of his trip through his eyes as a 21st century explorer, which has proved to be an enriching and inspiring chapter in his life. Peter not only paints en plein air but with the diversity of media incorporated into his work his landscapes have their own unique textured ruggedness, which is so indicative of his work.

Cuernos, Torres Del Paine, Patagonia

Jennie Slater, third artist in this vibrant show and who paints wild and colourful depictions from her memories of the sea. Jennie remembers being inspired by a few lines many years ago from an old sea shanty, which have stayed with her over the years;

"The sea, the sea, the open sea, the blue, the fresh, the ever free."

Jennie's works are drawn from reality but lean towards the abstract and the atmospheric, all illustrating the enormous power of the sea and the energy and passion that it evokes.

Rip Tide

Nic Fiddian Green, is our final cause for celebration and whose silk screened prints Horse at Water, are for sale at the gallery. Nic's inspiration for horses dates back to his Chelsea Art School days when he first saw the Horse Of Selene late of the Parthenon in Athens on display at the British Museum. Although he doesn't know exactly why it has been such a major inspiration its influence has been very important to his work creating horses heads on the grand scale he does.

Recently Nic had a huge statue erected in Surrey alongside the A3. Nic hopes this will slow the rushing traffic and that people will be uplifted by seeing this work. It is a reminder of our roots when the horse was the only mode of transport within the creation of early London and how the natural world is still thriving in modern times.

We hope everyone had a very happy Easter and we look forward to welcoming you to the gallery and the sculpture garden which is open again as Spring unfurls.

About the aurthor

Gerald Dodson is the proprietor of the Wykeham Gallery, a leading contemporary art gallery in Hampshire in the beautiful village of Stockbridge. Located midway between Winchester and Salisbury his quaint gallery exhibits paintings of all media, an extensive collection of bronze sculpture as well as ceramics and glass.

Many reasons to add bronzes to your art collection

Bronze is the oldest metal alloy that mankind has worked. First used in the Bronze age, but refined by the ancient Greeks and continuously used as an art form ever since. Because bronze is so fluid in its molten state, it can produce very highly detailed sculptures showing the finest of lines in faces, hair or pattern. It preserves the texture of the original material in perpetuity. The artist must carve the original in wood, clay or wax and then a mould is made - usually in silicon or clay. Then a wax version is cast from the mould, which is in turn is covered in porcelain to make final mould into which the bronze is poured.

The Best Christmas Presents are the ones you buy yourself! 24th Nov - 23 Dec 2017

Our Christmas show at the Wykeham Gallery, is always an exciting chance to bring together many wonderfully diverse artists - think of us as a glorious Christmas tree hung with paintings, sculptures, glass and ceramics - something for every taste and most budgets.




27th October - 11 November Peter Graham, Pamela Kay and Gareth Parry

Our latest exhibition opened last Friday on the 27th October. It runs for just two weeks until the 11th November.

It is a visual safari of a show with three very different but all highly respected artists. As ever the work is for sale through our website http://www.wykehamgallery.co.uk so if you have your heart set on a particular painting do give us a call or pop in as soon as you can!

It was wonderful to welcome Mary Pym and her family, along with many of her admirers and collectors, to the gallery on Friday 6th October for the opening of her solo show. This is the largest collection of Mary's landscape paintings work ever to be exhibited in one gallery and it is a superb body of work. Equally impressive is that her work is so well loved that almost half of the paintings had sold before the show was even hung! It is not all over, however, and there are still some excellent examples of her work for sale - do check out the "Current Exhibition" on the website or pop in.

Mary has worked incredibly long and hard to produce this collection. She told me it had taken over a year to paint and I was surprised that it had not taken a lot longer. If it was not for her dynamism and energy this show would never have been possible. Thank you!

Each canvas and oil painting is a self-contained landscape that binds the natural world to man's marks upon it. Most of her paintings have a flat almost grid like structure that usually comes from the very British landscapes they depict. The slightly irregular blocking of fields takes on a cubist quality. At the same time they are flattened into a two dimensional plane, yet with the depiction of a horizon and perspective, there is simultaneously great depth. The colours like the lines are strong. They are the brilliance of corn, flax and sunset - entirely part of nature enhanced by a strong light. Natural yet vivid at the same time.

Mary was born in Holland in 1935, but has lived most of her life in the UK, particularly in Hampshire but with time in Ireland, Scotland and Devon too. Having trained at the Winchester School of Art in the 50's and then at Southampton College of Art in the 70s where she also taught, her work feels very familiar to our Hampshire eyes.

Intimate and yet with big horizons, hovering between abstract and figurative, it is easy to understand why these calming pictures are so loved by collectors of contemporary painting.

They have both a very contemporary and yet timeless quality.

About the aurthor

Gerald Dodson is the proprietor of the Wykeham Gallery, a leading contemporary art gallery in Hampshire in the beautiful village of Stockbridge. Located midway between Winchester and Salisbury his quaint gallery exhibits paintings of all media, an extensive collection of bronze sculpture as well as ceramics and glass.

Not around for long, do pop in to the gallery before the 13th October to enjoy them.

Gerald steps out of the shadows......

Welcome to the Wykeham Gallery's first blog post. We hope that you will enjoy our blog musings and find out more about what is happening here at the gallery, life in Stockbridge on the River Test and stay in touch with us and the work of our wonderful stable of artists.

We have just hung and opened an excellent exhibition featuring the work of Mary Pym - you can read and see more about Mary in our next post. This is one of the few 'solo shows' at the Wykeham and the largest collection of Mary Pym's work to be seen in one location. She has worked long and hard to produce such a broad body of work and her many followers are eagerly acquiring them! Mary has been painting and honing her style for over 50 years. I, on the other hand, have been severally employed and now I am lucky enough to be on my fourth career - a gallery owner, although I have been a life-long collector.

Some of you I know very well, however, some of you only get to Stockbridge occasionally. I have therefore decided that perhaps it was time to step out of the shadows and tell you a little more about me, the gallery and the work we choose to show.

I'd love to tell you that there was some great strategy or scholarly plan to our exhibitions, but the truth is something much more instinctive. There is that old saying - 'I know what I like' and that is very much the philosophy behind the Wykeham. I've owned and run the Gallery for 15 years, and the choice of work we hang and sell is very intuitive and very much my choice. I wouldn't sell an art work that I wouldn't give room to in my house. The good news for you is that my taste is fairly broad!

So how do I get to have such confidence in my taste and selection? Well there is no real right or wrong to collecting art; you do have to be governed by your gut feelings. There are those who buy work only for investment but that is tricky if that is your only motivation. Fortunately the gallery has a loyal following, who have bought into our artistic offering, and so we have grown together with our customers. We can't guarantee that an art work will grow in value but generally our choices have proved solid. Most of our customers have faith in their own taste as well as a trust in us to present them with an interesting and diverse range of living artists - all of a given quality and standard.

My own taste and confidence, like those of many of my customers, comes from years of buying and traveling and looking. I am a very visual person, be it taking photographs or, more recently, designing our new sculpture garden. Some might say that my taste is fairly sound until it comes to ties…

My father was a diplomat, so as a child I was dragged around the museums of the world and exposed to many diverse and exotic cultures. From the souks of Turkey to the jungle of the Congo, these were my formative experiences; a very spoiling rich cultural and visual diet.

So I plan over the coming months to share with you here on our blog some news on our latest exhibitions, thoughts on new artists we are bringing to the gallery and perhaps the odd diversion such as fishing or things Hampshire.

We'd be very happy to hear from you too, so please send us your comments either on the website, on the blog or through Facebook or Instagram.

So welcome to our first blog and thank you for your patience. We look forward to sharing more with you.

About the aurthor

Gerald Dodson is the proprietor of the Wykeham Gallery, a leading contemporary art gallery in Hampshire in the beautiful village of Stockbridge. Located midway between Winchester and Salisbury his quaint gallery exhibits paintings of all media, an extensive collection of bronze sculpture as well as ceramics and glass.

Gerald Dodson - Owner of the Wykeham Gallery